Reading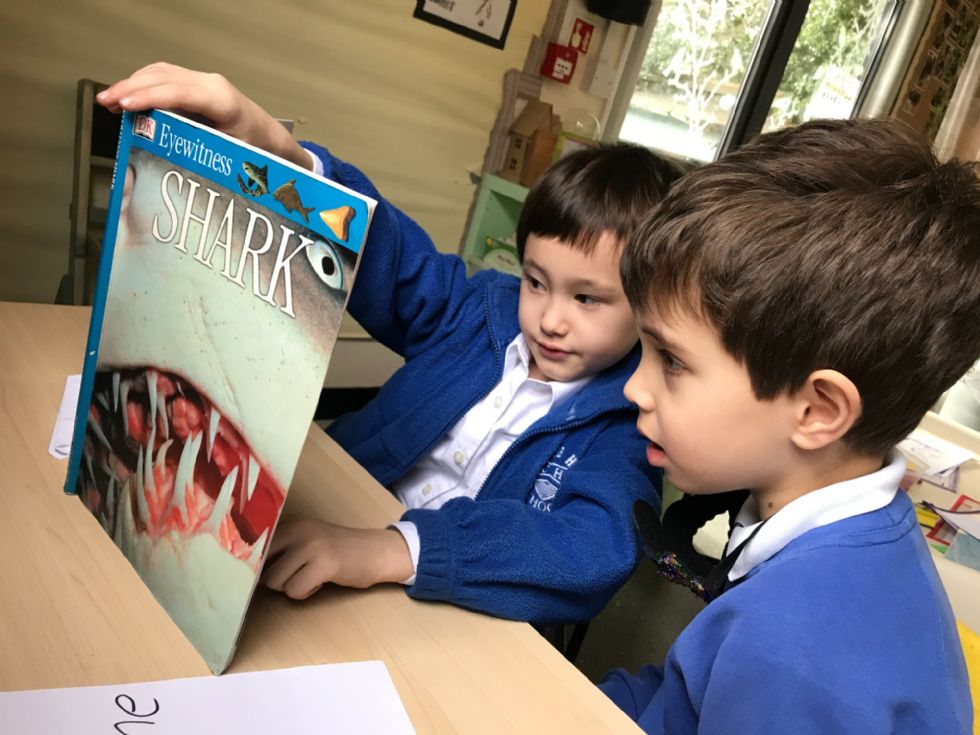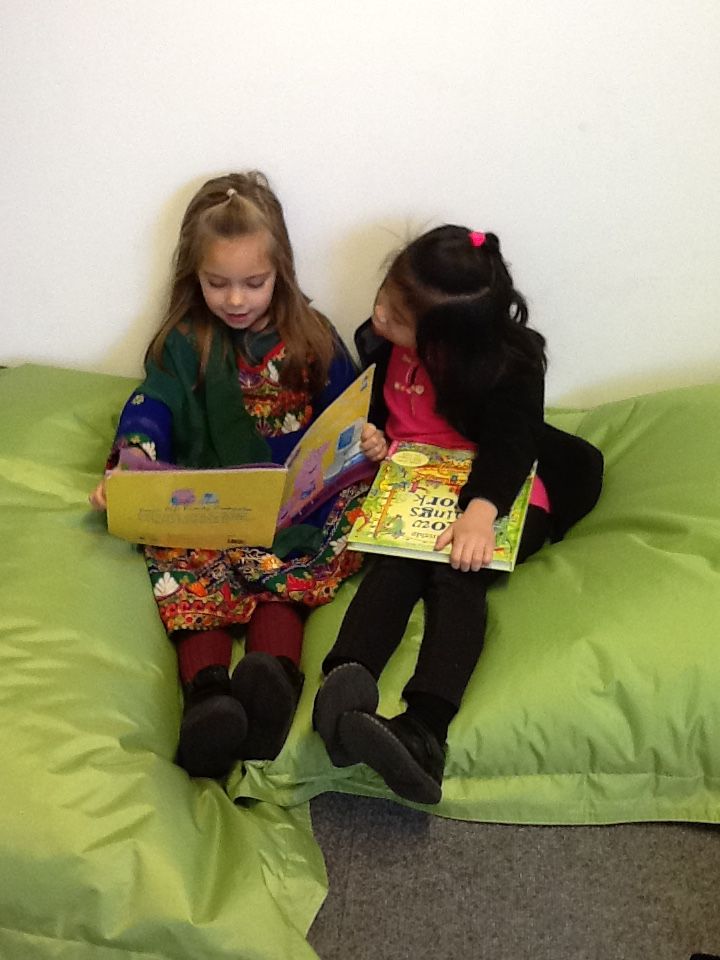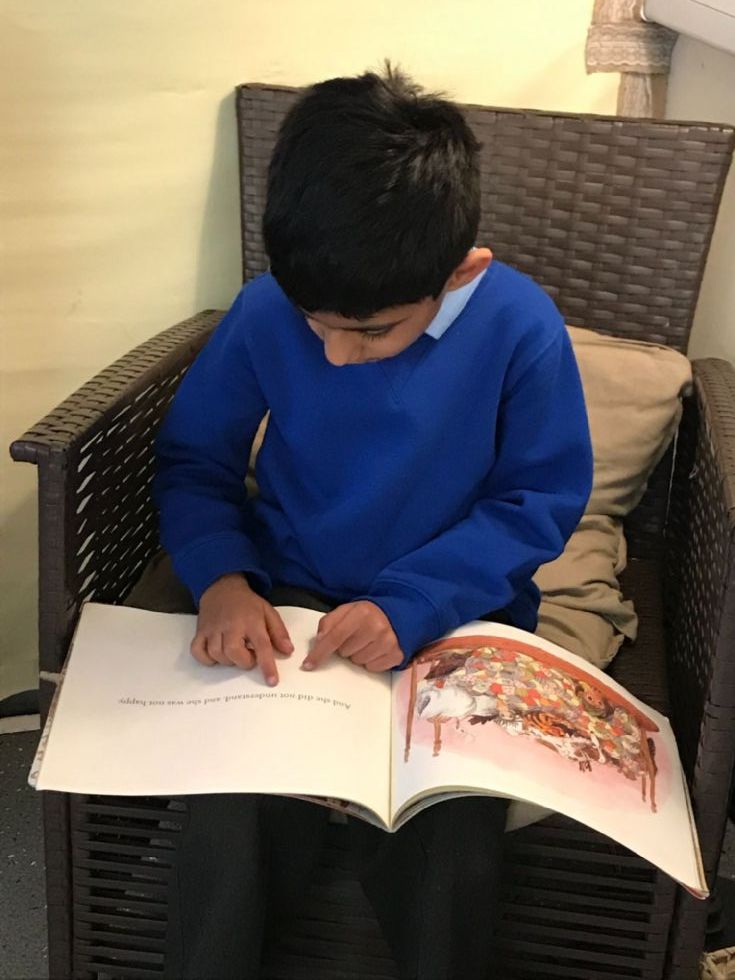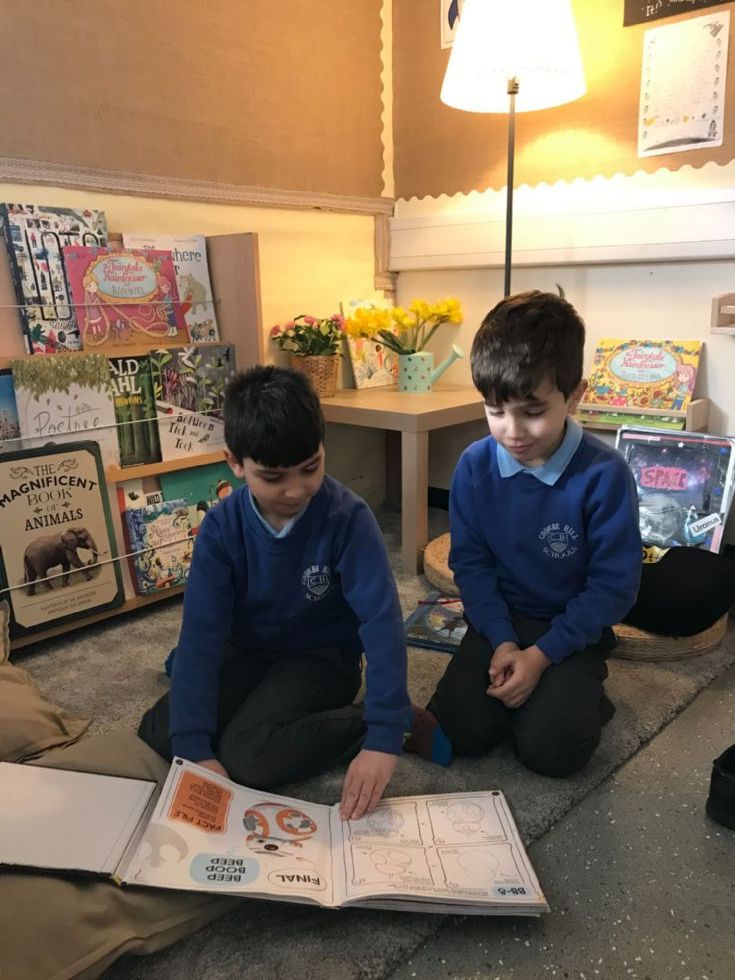 Curriculum Intent
Reading is such an important life skill and it is at the heart of everything we do. Our staff agree that we are aiming for the same endpoint - children who enjoy reading, read widely and often and have age-appropriate fluency and comprehension. Our reading curriculum is designed to provide a balanced and engaging approach to developing reading skills, which include both decoding and comprehension. Our focus on high quality texts (we are an Associate School of The Power of Reading programme - CLPE ) helps excite and engage children and develops resilience and stamina for reading.
Curriculum Implementation
All staff have a clear and ambitious vision for providing high quality teaching of reading.
Rigorous, sequential approach to teaching reading
Reading materials closely matched to children's phonic knowledge
Reading attainment - assessed - gaps addressed quickly and effectively
Sharp focus on phonics knowledge and language comprehension which are necessary to read and give children the skills to communicate - foundations for future learning
Teacher's own speaking, listening, writing and reading of English, supports children in developing their language and vocabulary
Oracy in all subjects
Our curriculum design allows for as many speaking opportunities as possible as our teachers understand that speaking and listening are at the heart of language. Not only are they the foundations for reading and writing, they are also essential skills for thinking and communication. Our teachers are role models for good spoken English, using ambitious vocabulary and correct grammar. Children are encouraged to read aloud, discuss ideas with their peers and teachers, engage with and learn new vocabulary to extend their spoken and receptive vocabulary.
Phonics -
Systematic Synthetic Phonics is the foundation which allows young readers to learn the sounds progressively, access simple texts and engage in early reading. We follow the Letters and Sounds sequence. Lessons take place daily in Reception and Key Stage 1 (Years 1 and 2). They are also introduced to "tricky" words, words which have to be learnt rather than spelt out. As each new sound/word is taught, the children continually revise and practise the previous sounds. As they become more confident, they begin to segment words into sounds in order to write whole words. They continue this journey in Year 1 and in Year 2 the children revise previously taught phonemes (sounds) and graphemes (ways of writing the sounds) and learn a range of new ones. Children who need extra support are invited to Early Morning Phonics, Early Morning Reading or may receive 1:1 Literary support or be included in small group work.
In June, the children in Year 1 are tested on their phonics in a National Phonics Screening check. This is a check of 20 real words and 20 alien words. Parents will receive their child's results with their end of term Report. Our school results are listed below together with the national and RBK results.
Find a short presentation about Year 1 Phonics here.
Phonics Links
Letter and Sounds Daily lessons
Reading Links
Reading Eggs- Reading Eggspress
| | | | |
| --- | --- | --- | --- |
| Year | CHI | National | RBK |
| | Met the Standard | Met the Standard | Met the Standard |
| 2019 | 88% | 82% | 84% |
| 2018 | 84% | 83% | 86% |
| 2017 | 83% | 81% | 85% |
In Year 2, the pupils revise previously taught phonemes (sounds) and graphemes (ways of writing the sounds) and learn a range of new ones. Children who do not meet the expected standard in the Year 1 National Phonics Screening, are expected to repeat it in Year 2.
Sight words
Alongside, phonics, our children learn "sight words" through games, patterns and repetition. As each new sound/word is taught, pupils continually revise and practise the previous sounds. We use Precision Teaching, dictation and word games.
Guided reading, shared reading, 1:1 reading, whole-class reading
Our curriculum provides reading opportunities in all areas of learning. Reading skills are explicitly taught through guided, shared or 1:1 reading, according to the needs of the class. Books are chosen carefully to match each child's reading ability and children in KS1 can also change their free choice books frequently.
Our new library is used by all of the children and has been stocked with a diverse range of high quality texts to engage all readers.
Whole class reading takes place throughout the day as the children read instructions, the day and the date on the board, refer to the class visual timetable, access labelled resources etc and read text from the Interactive White Board.
Comprehension
We develop the skills of comprehension alongside the decoding and sight reading skills to ensure that children learn to read and comprehend at the same speed. We teach this skill through reading to and with the children.
Key Stage 1 Reading Outcomes
Reading
Year

CHI

National

RBK

Expected Standard

Greater Depth

Expected Standard

Greater Depth

Expected Standard

Greater Depth

2019

83%

40%

75%

25%

80%

30%

2018

86%

43%

75%

26%

80%

31%

2017

81%

23%

76%

25%

80%

29%
Year 1 and 2 Common Exception Words

Looking For a Good Book? Suggestions from CLPE and BookTrust's Great Books Guide
Age 4 - 5
All Join In! by Quentin Blake
The Tiger Skin Rug by Gerald Rose
Brown Bear, Brown Bear, What do you See? by Bill Martin Jr & Eric Carle
Max the Brave by Ed Vere
I Love Bugs! by Emma Dodd
Billy and the Beast - Nadia Shireen
Cake - Sue Hendra and Paul Linnet
Creature Features - Natasha Durley
Cyril and Pat - Emily Gavett
Gary's Banana Drama - Jane Massey
Going to the Volcano - Andy Stanton
Hello, Hot Dog! - Lily Murray
How to Be a Lion - Ed Vere
Julian is a Mermaid - Jessica Love
Juniper Jupiter - Lizzy Stewart
Luna Loves Library Day - Joseph Coelho
Mixed - Arree Chung
Planet Awesome! - Stacy McAnulty
Simon Sock - Sue Hendra & Paul Linnet
Ten Fat Sausages - Michelle Robinson
The Last Wolf - Mini Grey
The New Neighbours - Sarah McIntyre
Valdemar's Peas - Maria Jonsson
Kantika's Tail - Judith Kerr
Age 6-7
Poems to Perform by Julia Donaldson
The Pea and the Princess by Mini Grey
Frog and Toad are Friends by Arnold Lobel
The Day the Crayons Quit by Drew
Daywalt and Oliver Jeffers
Growing Frogs by Vivian French
Once Upon a Wild Wood - Chris Riddell
Bad Nana: Older Not Wiser - Sophy Henn
Dave Pigeon (Racer!) - Swapna Haddow
Dogs in Space: The Amazing True Story of Belka and Strelka - Vix Southgate
Everything You Need for a Treehouse - Carter Higgens
Fox & Chick: The Party - Sergio Ruzzier
Hansel & Gretel - Bethan Woolvin
I Say OOH You Say AAH - John Kane
Joan Procter, Dragon Doctor - Patricia Valdez
Read the Book, Lemmings! - Ame Dyckman
The Wildest Cowboy - Garth Jennings
The Goozillas!: Escape from the Monstrous Maze - Dexter Green
Magical Kingdom of Birds: The Sleepy Hummingbirds - Anne Booth
The Truth About My Unbelievable School - Davide Cali
The Variety of Life - Nicola Davies
The Bad Guys: Episodes 1 & 2 - Aaron Blabey
The Zoological Times: The Animal Kingdom's Wildest Newspaper - Stella Gurney
Rose's Dress of Dreams - Katherine Woodfine
The Night Knights - Gideon Sterer
Sports are Fantastic Fun! Ole Konnecke