Home Learning during school closure for COVID-19​​​​​​​
Updated 3rd July
Congratulations to Nooraz from Hedgehogs, Jasmine from Owls, Matilda from Tigers and Clara from Leopards, our only four participants in the London Maths Week challenge!
Watch this space for prizes!
This is not compulsory and work will not be assessed. However, feedback can be given once per week via the new class email inbox.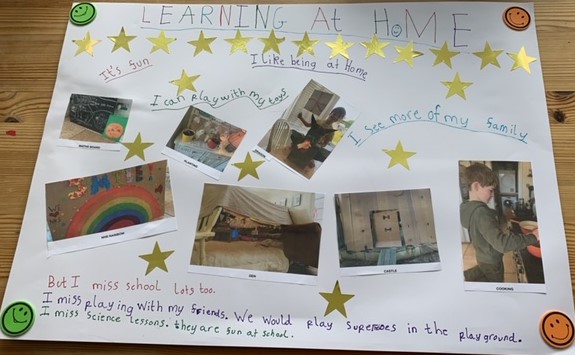 During this period of school closure, we want to help you keep your child safe and to maintain a school-like routine. They may enjoy making a timetable of activities throughout the day - it is something we do at school and it may help you with maintaining a routine. Suggested timetables for each year group are available in this section.
Please remember Government guidance states that 'parents should do everything they can to ensure children are not mixing socially in a way that can continue to spread the virus. They should observe the same social distancing principles as adults'. Therefore, why not arrange virtual play dates over Zoom, Skype or other similar video conferencing platforms.
For support in talking to your children about COVID-19, please view this short book by Manuela Molena (available in several languages). If your child is anxious or worried about coronavirus, please visit the NSPCC page for advice.
Please explore this section for ideas to support your child's learning at home. The Department for Education funded Oak National Academy and BBC Bitesize have also launched a range of daily lessons and learning resources across their platforms. The Mayor of London has gathered some London-specific curriculum offers too.
EYFS (Reception) children
Teachers will continue to communicate with you via Tapestry so look out for weekly learning challenges and fun activities.
Reading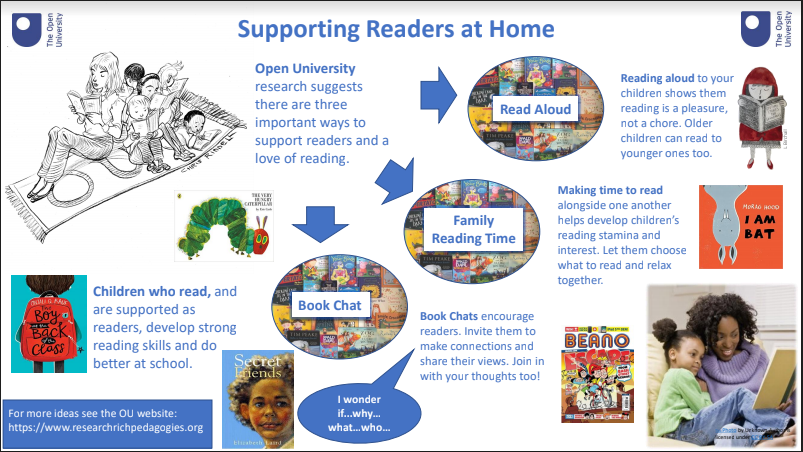 Please keep reading to your children (daily) and encourage them to read to you. Please look at oxford owl for free access to Oxford Reading books - simply create a login and your child can read books at their reading ability and enjoy comprehension activities linked to the book. Additionally you can try out Collins for free e-books. Kingston library also has a range of online services available. See their letter at the bottom of this page and if you a library card see here.
Follow the 7 steps to making reading aloud magical!
Reading Challenge
You can send a photograph of your child reading their favourite book to admin@chi.rbksch.org and we will put them in our photo gallery. Why not write a book review and email it in. A selection will go up onto the website.
https://new.phonicsplay.co.uk/
Audio Stories
Enjoy audio stories read by CHI staff and have a go at illustrating the stories you hear. Send these in for the art gallery! Carole McGrath has also shared with us one of her massage stories from her Peer Massage Project - a lovely thing to do together. Additionally Audible have made hundreds of titles for children free to access on their website.
Spelling
Years 1 & 2, a new spelling theme will be shared each week in the relevant year group area. Also, please continue to practise reading and writing the Common Exception Words. Reception children can practise reading/spelling the tricky words- the, to, go, no, I, he, she, we, me, be, was, my, you, they, her, all, are - which are at the back of your white Reading Records.
Handwriting
Please help your children practise their letter (capital letters and lower case) and number formation - you will find some helpful videos and exemplar sheets within this page.
Maths
Why not keep a Daily Maths Board as this will help your child to consolidate fundamental concepts such as Place Value (Tens and Ones), Money, Tallies, Multiples, Odd and Even, Time, 1 More & 1 Less and 10 More & 10 Less.
For short daily lessons, please see the White Rose Maths Hub. Each week we will share the planned lessons in the relevant year group area. Also, please keep using the wonderful Mathletics (Years 1 & 2) and Mathseeds (Reception) resources as we will continue to update the maths tasks regularly. Homework continues to be set for Years 1 & 2 each Friday. If you do not have your child's login, please email us and we will be able to remind you of this.
For extra maths support see here.
Time
A great way to support your child during this time is to help them with the concept of time - reciting the days of the week, months of the year and talking about today's date. Everyday in school, we talk about the day, date and the month - ask your children to teach you one of the songs they have learned.
In Years 1 and 2, we are teaching the children how to tell the time using an analogue clock or watch face. You can help with this by talking about time with your child eg "we are having lunch in half an hour at half past 12", and with helping them to read the time. Enjoy making clocks together, writing numbers on a clock face and making the long and short hands.
The expectation at the end of Year 1 is that children should be able to read o'clock and half past the hour. The expectation at the end of Year 2 is that children should be able to read at least o'clock, half past, quarter past and quarter to and also read the time on the clock to the nearest 5 minutes.
Visit and Contribute to our weekly online Art and Home Learning Activities Gallery!
Have a look at all the great work in our online Photo Gallery. This is an opportunity for your children to share any art or activities they have been doing at home. This week we are looking at 'lovely letters and fabulous fonts'. The attachment to Mrs Berry's email gives you some suggestions. Take a photograph of any art or other activity you do and email it to admin@chi.rbksch.org with the subject Gallery. We are really enjoying seeing and celebrating the work the children are doing at home.
Also, illustrator Rob Biddulph offers videos designed to help your child (or you!) to learn how to draw!
Singing
Music has an extraordinary power to bring us together, it can lift us when we feel low, energise us when we feel tired, and is something we all have in common. Why not learn our song of the week, courtesy of Sing Up, with your family! The backing track, lyrics, videos to learn the sign language and related activities can be found here. You can also visit Out of the Ark for new songs every day!
**NEW song to learn called Heroes ***
Exercise and Wellbeing
A popular site we use in school is gonoodle, for yoga and mindfulness try cosmickids and for daily exercise see Joe Wicks.
Forest School (in your garden)If you have some outdoor space at home, check out these great ideas for outdoor learning from The Wildlife Trust. Do you love watching you garden birds? If so, BTO Garden BirdWatch offers a great opportunity to learn more about garden birds and other wildlife, and to contribute directly to BTO's important scientific research on the value of gardens for wildlife. It's free to join!
RE activities are generated fortnightly and can be found below.