Mayoral Visit to Coombe Hill Infants'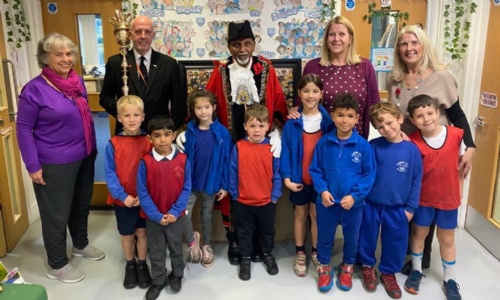 We were pleased to welcome The Worshipful the Mayor of the Royal Borough of Kingston upon Thames, Councillor Yogan Yoganathan MBE, to our school on Tuesday.
We held a special assembly and Mr Mayor told the children what it was like being the Mayor and also about the history of the role and how important it was to be inclusive. He is the 187th mayor of the Borough and the role dates back to 1835!
Afterwards the children asked some questions and Mr Mayor complimented them on their beautiful singing. He then met with our prefects and Mrs Berry, the children were all very excited and curious and asked even more questions! We love having visitors to our school, and we look forward to welcoming the Mayor back again for another visit.