Year 1 Football Festival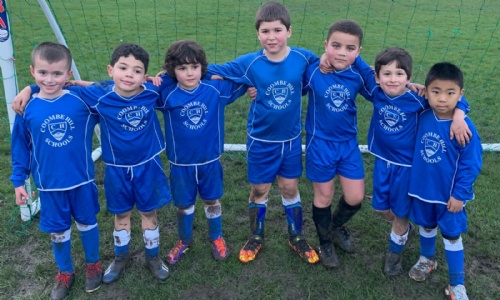 Our fabulous football team played in a local schools tournament on Tues 18th January.
Match Report from our wonderful Love The Ball Coach Rudy:
Vs Corpus Christi:
Evenly matched game with both teams going for the win. Unfortunately we lost 1-0 but there were some brilliant saves by our goalkeeper nonetheless. Our defenders were outstanding, making tackles all over the pitch! We managed to hit the post through a great effort from our strikers - one of whom had his shot cleared off the line!
Vs Christ Church
Another even match between the two schools. We went 1-0 down initially but, managed to pull one goal back to make the final score, 1-1. Our midfielders were tireless in their running and showed great dribbling skills to get past the opposition. The team made some amazing passes to find their team mates.
Overall, a really well run tournament which ended with all the boys going home BUZZING! Some were even asking do they get to have a tournament every Tuesday now!
Look forward to the next one!